So, you have decided on an epoxy floor for your home, but you aren't sure about how to design a pattern? Taking some time to research floors that you like is a great place to start. You can recreate a natural stone like marble, or choose a photo of an epoxy floor and recreate that. The possibilities are endless.
For more flooring ideas, the Countertop Epoxy Pinterest will have plenty of ideas for a floor if you haven't found the design you would prefer yet!
For an epoxy floor we have many different colors to choose from and endless combinations and potential designs. In this blog you will learn about how to choose your base color and accenting designs.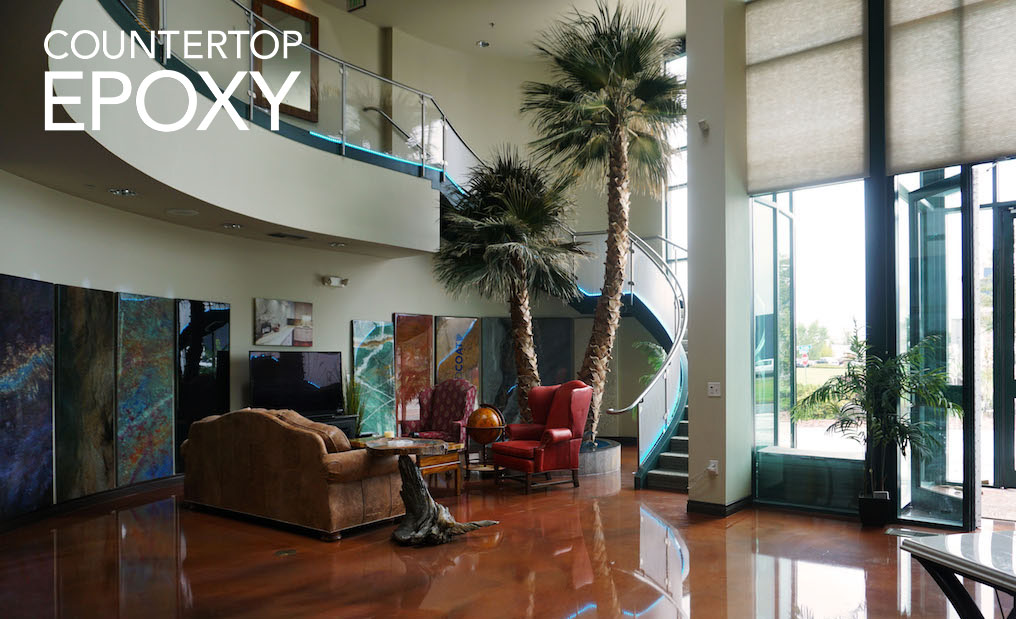 Choosing Your Base Color
Think about your desired pattern. What is the prevailing color? In many scenarios, using just one color will create the effect you are looking for. For example, in our Colorado office, we poured a floor that was just our copper metallic powder for the base and it is gorgeous! For a lighter colored floor we would recommend choosing from these options as a base:
White - A pure white base coat.
Almond - This is a light brown with apricot tones.
For darker colored floors that also have earthy tones, these will be the best base coats:
Brown - This earthy color is beautiful with a metallic accent color.
Sandstone - A reddish brown with earthy tones.
Metallic Powder options:
Gold - A bronzed color that is brilliant enough to stand on it's own, if you do add an accent, potentially try charcoal.
Copper - This is the most popular color for floors, a bright metallic color that stands well on it's own.
Charcoal - This gray floor is simple and an excellent choice when trying to recreate a cool concrete pattern.
Silver - This metallic gray tone is stunning on the floor.
For a unique floor try either the Blue or Caribbean metallic powder for your base coat. These colors make a statement wherever you use them.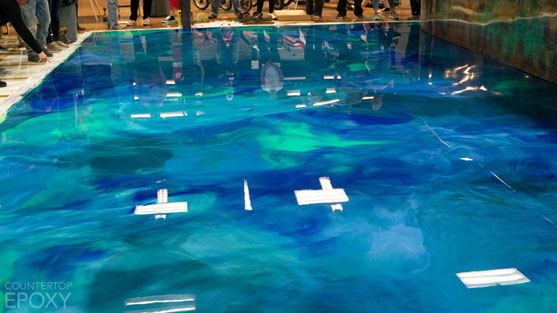 *Note: If using metallic powder for you base color, please give our office a call to order sufficient amount for full opaqueness.
Choosing Your Accenting Colors
These base colors are beautiful on their own, however, if you want to create more complex patterns in your floor, try using an accent color. There are plenty of Metallic Powders to choose from, instead of describing each color, there are a few categories of colors that have different properties you can add to your floor, these include:
Translucent Colors
Pearl, Translucent Green, and Translucent Gold are all a part of the Translucent Metallic Powder category. These colors are often used to go over top a solid metallic color to create cells and add a sheen of color to the top of a surface.
Glitters
Add pizzaz to the floor by using on of our glitter options. The Blue or Gold glitters both make a floor pop. In this category there are colors like Hocus Pocus and Maroon 5. These two options add a pop of glitter to your floors that looks magical.
Metallic Colors
There are pinks, golds, charcoals, blues, and greens! These base colors would be our recommendation for creating your bold lines and designs into your floor.
For many designs you will want to choose a combination of metallic powders to be added to your base coat color. On our Youtube channel we have many examples of how you could apply these colors to recreate a pattern.
If veins are what you are after, this tutorial will be helpful:
For a mottled effect, this slate tutorial will be useful to you:
What color combination will you use for your floor? Create your flooring epoxy kit by ordering here - https://www.countertopepoxy.com/fx-gloss-flooring-epoxy/.

If you have any questions about the process, give us a call at 970.639.9338. We have the friendliest, most experienced staff in the industry and we'll be happy to walk you through the entire process. Our office is open Monday through Friday, 7am-6pm MST.