Remodeling or revamping your kitchen and need an idea for a new theme? Here are a few popular kitchens to give you some inspiration!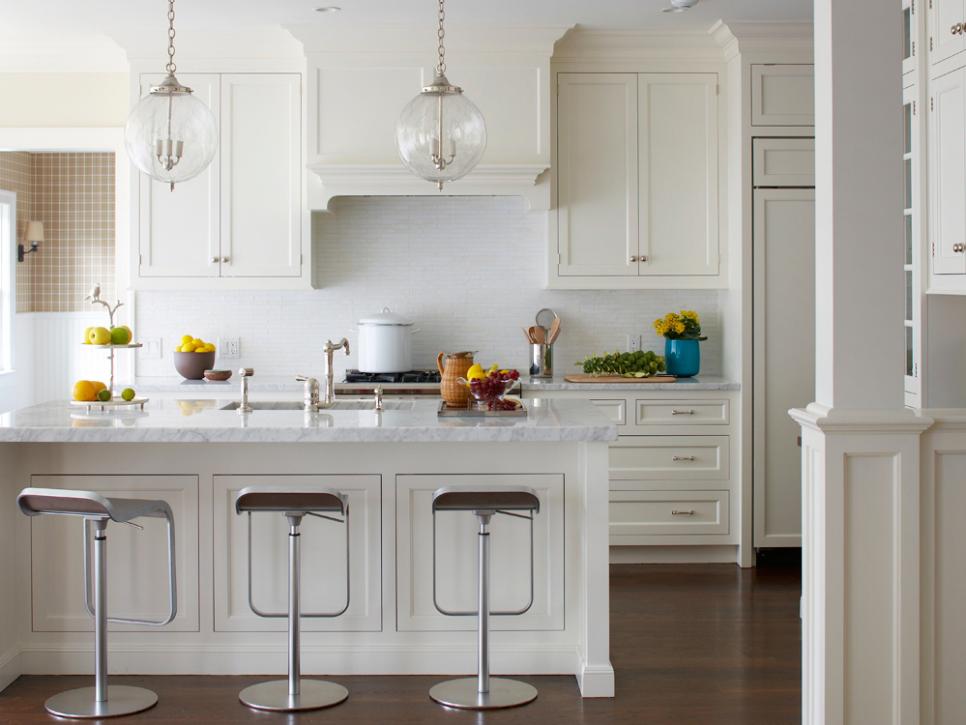 Tranquil Kitchen
A tranquil kitchen color scheme and décor is perfect for almost any home and kitchen, especially those that are smaller. Tranquil kitchen designs use light and airy paint colors, décor, lighting, etc. to open up the room, and bring in a breath of fresh air. Colors include light greys, creams, greens, and blues. White cabinets or light colored wood are the perfect match in a tranquil kitchen, along with white or light colored countertops. The goal of a tranquil kitchen is to be airy and refreshing, while having crisp, modern colors and decor. Stainless steel or white appliances, with recessed or minimal lighting keeps the updated feeling. For kitchens with ample amounts of natural lighting, this is a great option.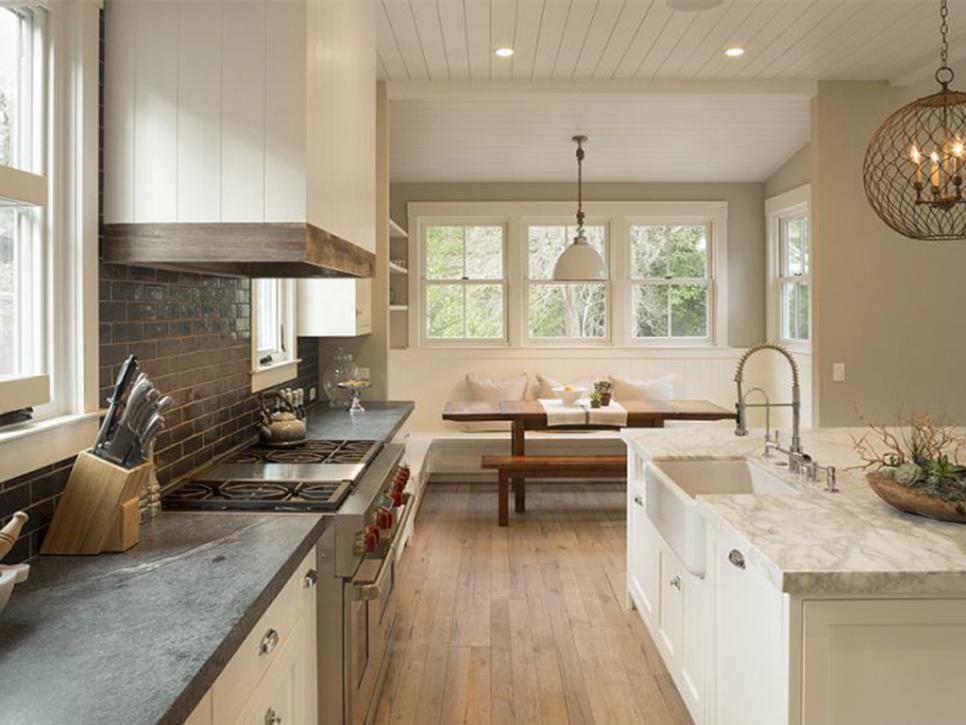 Modern Farmhouse Kitchen
Modern Farmhouse kitchen design uses the best in rustic décor, adds a little bit of industrial feel, and is the epitome of sleek modern elegance. It's urbane, without feeling ostentatious or unapproachable, and creates the feeling like you can relax and enjoy your time spent in the kitchen. Incorporating old and new is the rule to creating an authentic, yet new-age farmhouse kitchen. There's the obvious advice such as reclaimed wood, a farmhouse sink, barn doors, antique décor, etc. but the true farmhouse look comes through in the details. The beauty in a modern farmhouse kitchen is the ample choices for color. Light or dark both match the décor of farmhouse, appliances can be almost any finish, and the countertop choices are wide open. Decide on a color scheme and everything else almost falls into place. For a lighter kitchen white cabinets, grey backsplash (faux grey wood here is to die for), and stainless steel appliances. For a darker kitchen try chocolate brown cabinets, light grey or cream backsplash (subway tile, etc.), and stainless steel or black appliances. Rustic pendent lighting is a great option to break up the space. Another popular feature lately is a painted chalk board on a cabinet or accent wall. It's a cute way to keep a grocery list or measuring cheat sheet, and add an eye-catching feature.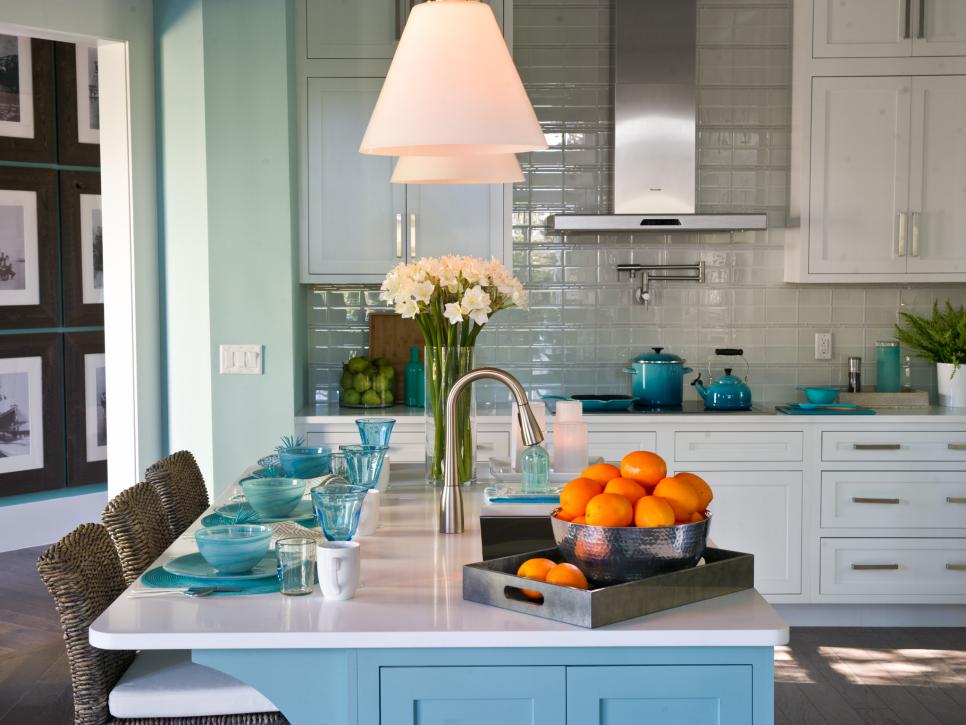 Coastal Kitchen
Much like the tranquil kitchen, coastal kitchens are meant to be light and airy with a hint of salt and drama. Modern and sleek, coastal kitchens are known for their inviting color scheme and expert matching of blues, creams, golds, and a hint of iridescent glow throughout the space. Don't be afraid to mismatch metals in this kitchen, bringing in a brushed gold/champagne faucet and lighting with a stainless steel sink and appliances will add a little something to the kitchen your guests just won't be able to put a finger on. White countertops with a backsplash of whites, blues, creams, and gold will tie the kitchen together. Cabinets look great either white or grey depending on how dark or light you want your kitchen to appear. Pendent lighting is also a great option here. A reclaimed wood island or bar is a fantastic touch to bring the coastal theme in as well.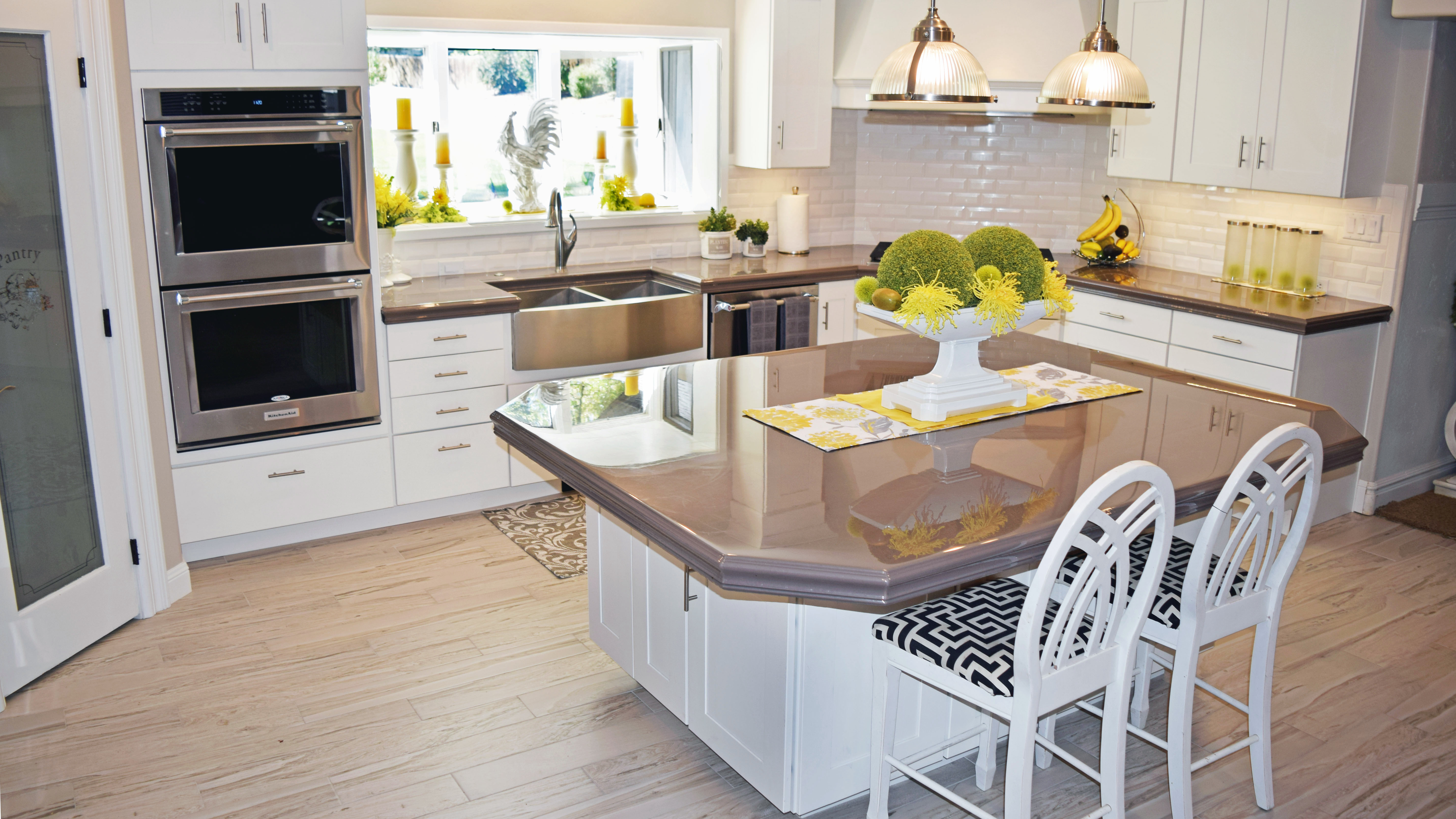 Minimalist Kitchen
Minimalist kitchens are another smart options for those with a smaller kitchen area, due to it being, well- minimal. Usually the color scheme is one or two colors throughout the space. Either grey, black, or white with an accent of one of these colors. Cabinetry is your friend with this design as it can hide anything that is taking up too much space such as appliances. Build your refrigerator into your cabinets, and even your dishwasher or range. Stainless steel is a great option in this kitchen, and lighting should be recessed. Don't be afraid to put an accent in this kitchen such as a dramatic island or flashy backsplash. In words a minimalist kitchen can sound uninviting and boring, but done right they take you by surprise and welcome you with their open space and functionality.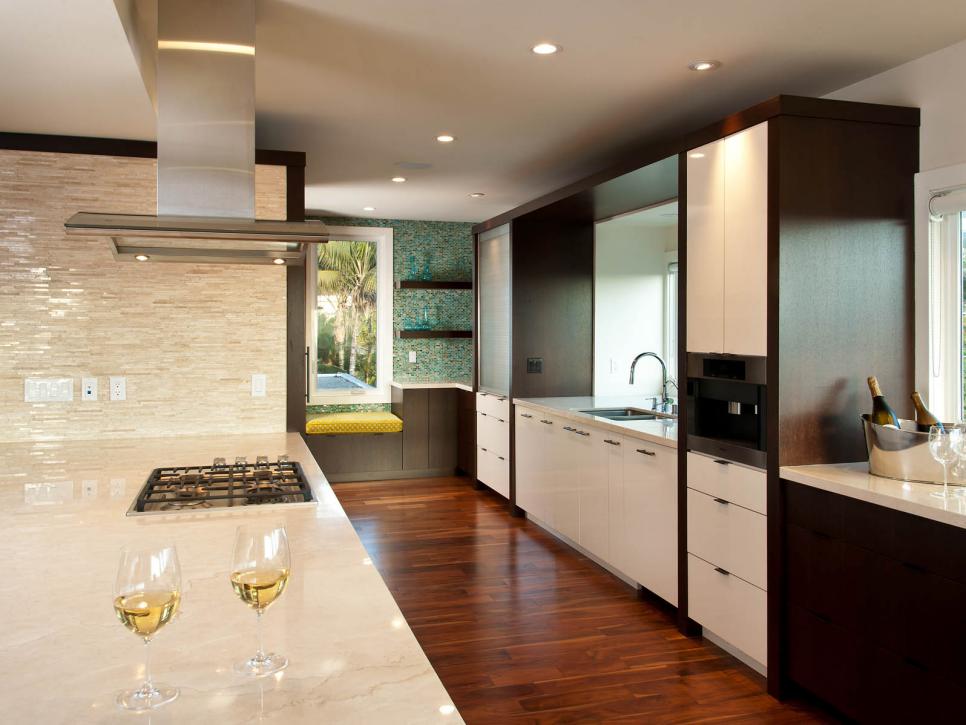 Contemporary Kitchen
Contemporary kitchens are the perfect kitchen for using both light and dark colors together. Dark colored cabinets such as black, grey, or brown with white countertops are the perfect mix to create depth and draw you in. Lighting should be bright and intense to help balance out the light and dark. Like the minimalist kitchen, contemporary kitchens are not cluttered with décor (Makes the job of decorating easy for you!), but do have a few eye-catching pieces throughout. Try a large boutique of flowers, colorful fruit basket, or large windows.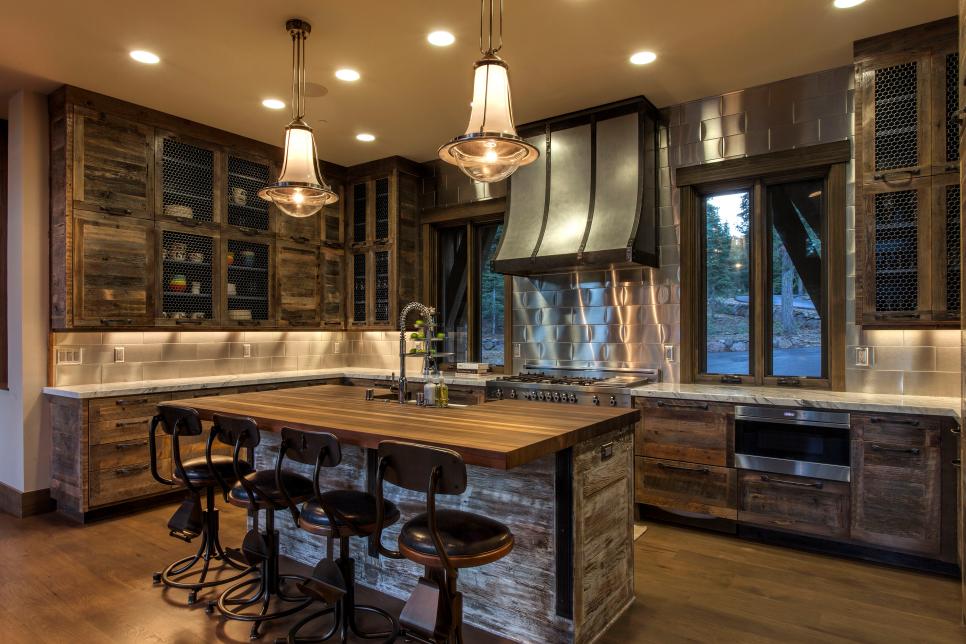 Rustic Kitchen
Wood, metal and lots of it! Rustic kitchens manage to bring together comfort and roughness perfectly. Dark wood cabinets, light or dark countertops, and low lighting create the perfect ambiance to a rustic kitchen. Pops of accents help bring in the comfort such as red or even turquoise. Wood beams are a great accent, as well as a re-purposed chandelier or pendent lighting from a large beam. Rustic kitchens are not usually suggested for smaller kitchens, although they can be adapted to fit even a cute, small space. Antiques are great for décor, and a cheap option as well!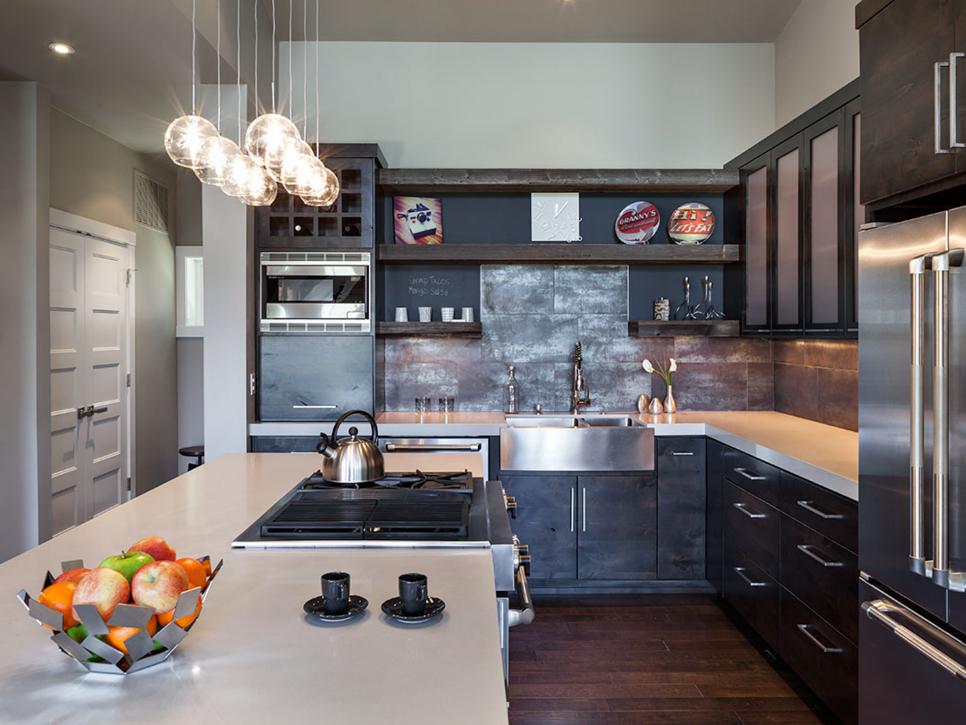 Industrial Kitchen
It's a rustic kitchen, without the rustic! Metal is your friend in an industrial kitchen. Use your creative side to see what you can create for your kitchen. Use shelves and metal pipes for your cabinets, create a lighting piece with dangling lights and piping, etc. Bronze and black are great colors for an industrial kitchen, and maybe even throw in some brick pattern and gears. Industrial kitchens are for creative people, and can be almost anything you want! Copper countertops are a unique and fun idea for this kitchen.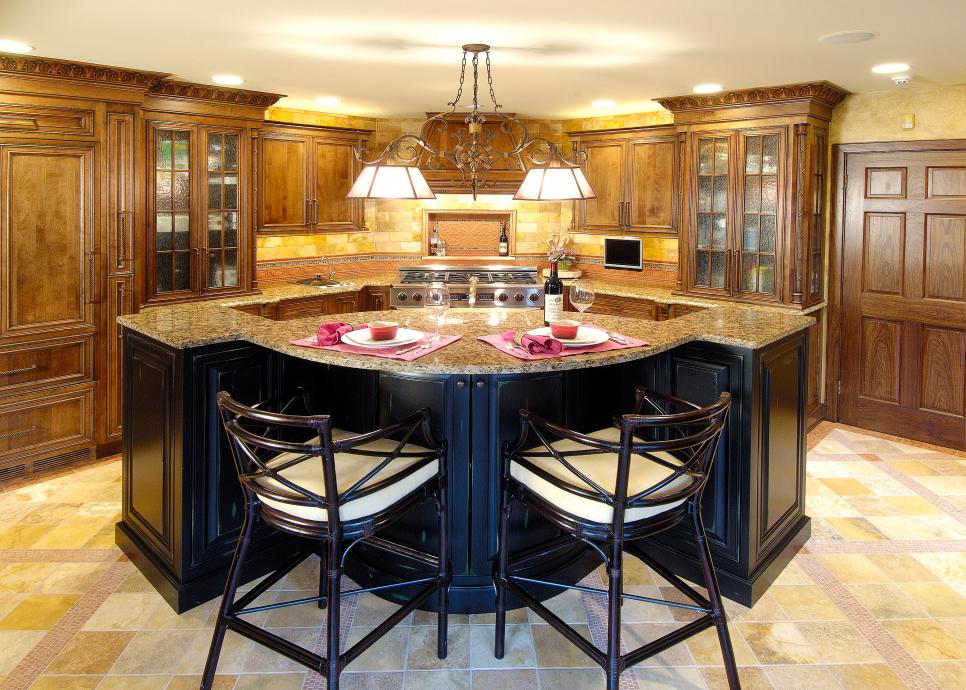 Tuscan Kitchen
Bring the diverse natural landscape of beautiful Tuscany, and its culture home to you. Be bold with your Tuscan kitchen. Use reds, purples, chocolates, and tans to accent your kitchen. Cabinets, islands, and bars should be wood with daring accents. In a Tuscan kitchen, décor is important so make sure you have your pieces lined up to add the finishing touch. Large stone is a great option for your backsplash, around your stove, and even your flooring. Be daring with your kitchen, and you cannot go wrong.
Photo Credit : http://photos.hgtv.com