Countertop Epoxy is finally bringing the workshop our customers know and love on the road! Would you like to become an expert at working with epoxy? Get a comprehensive education, over the course of 5 days, of our countertop and wall products, including advanced techniques and application methods! In Countertop Epoxy's workshops, students get a hands-on course, which means that each student will get to mix, pour, and experience using this product before you install for your customer. We want you to make mistakes with our experienced staff to help you! After this workshop, you will have the confidence and skills to successfully install epoxy and get jobs.
Check out the following workshop dates and locations: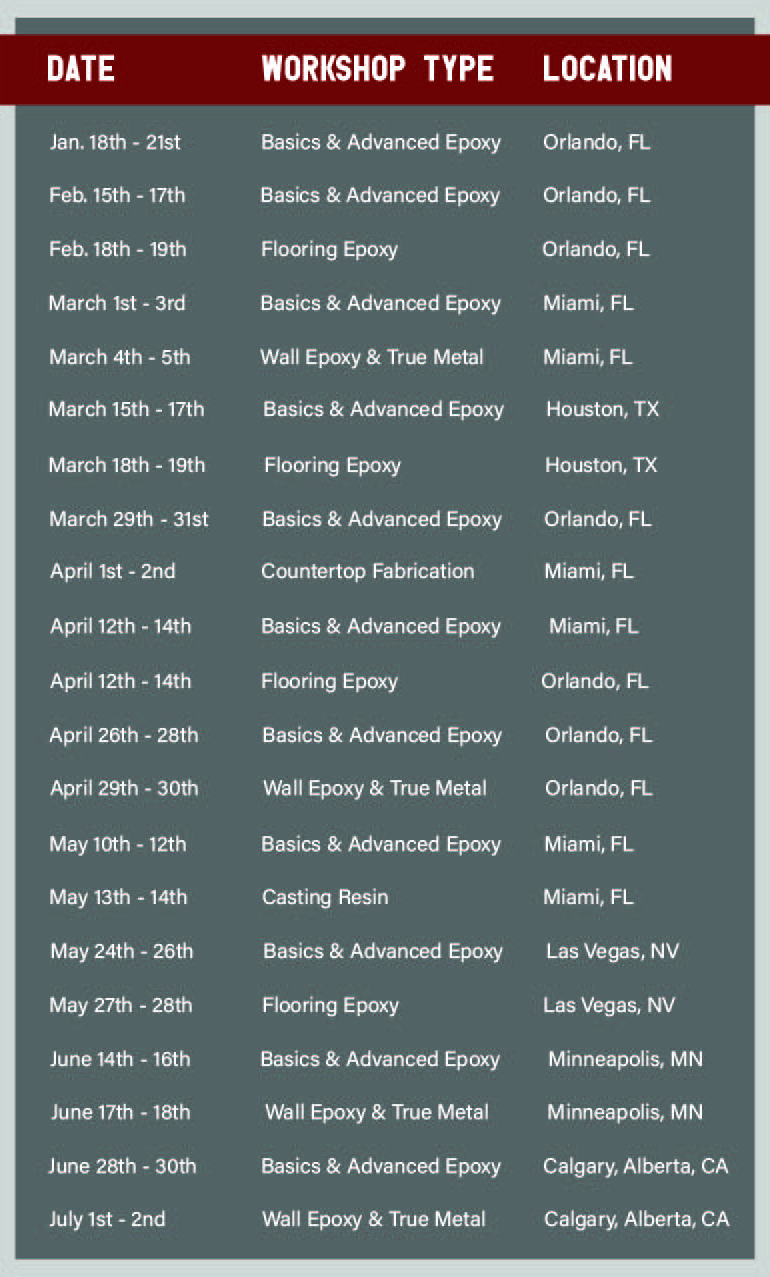 In all of our workshops you will also:
Learn marketing for epoxy
Learn how to bid jobs
Learn about how to prep surfaces
Learn how to pour over unusual surfaces
Learn how prep flooring as well as pour epoxy floors
Learn how to use our casting and wall products
Receive lunch everyday
First 3 days of class will cover the following:
Basics of Epoxy
Mixing
Creating your own samples
Creating customer favorite samples that will make you money
Marketing for epoxy
How to bid jobs
If you decide to stay for the next 2 days of the workshop, we will go over a Specialty Product such as Flooring, Casting, True Metal, Wall Systems, or Outdoor coatings. To see which product we will be covering, check the schedule above. The price to stay the additional 2 days will cost $499.00 and needs to be paid in advance. To register for both workshops, the price will $799.00. *Discount taken automatically at checkout! Call now to learn more or get signed up. 970-639-9338.
If you choose to take the Flooring portion of the Workshop, we will go over how to do the following:
Prepping your substrate
Thin and thick-mil epoxy pours
Mica Flake Flooring
Outdoor Coatings
Cove base systems
Urethane application
Benefits of using each product
If you choose to take the Wall Epoxy and True Metal portion of the Workshop, we will go over how to do the following:
Coating walls with our Metallic Wall Epoxy
Coating countertops and other surfaces with our True Metal
Sanding True Metal
Benefits of using these products
If you choose to take the Casting Resin portion of the Workshop, we will go over how to do the following:
How to use our Deep Pour Casting Resin
How to use our Casting Resin in different applications
Benefits of using this product