Epoxy is the new durable and anti-bacterial countertop of choice, whether you have installed your own countertop, or have pre-existing epoxy countertops it is important to know how to properly care for this unique surface. At Countertop Epoxy we have helped thousands of customers install and maintain their own epoxy countertops and these are the techniques we have found that work best to care for your epoxy countertop.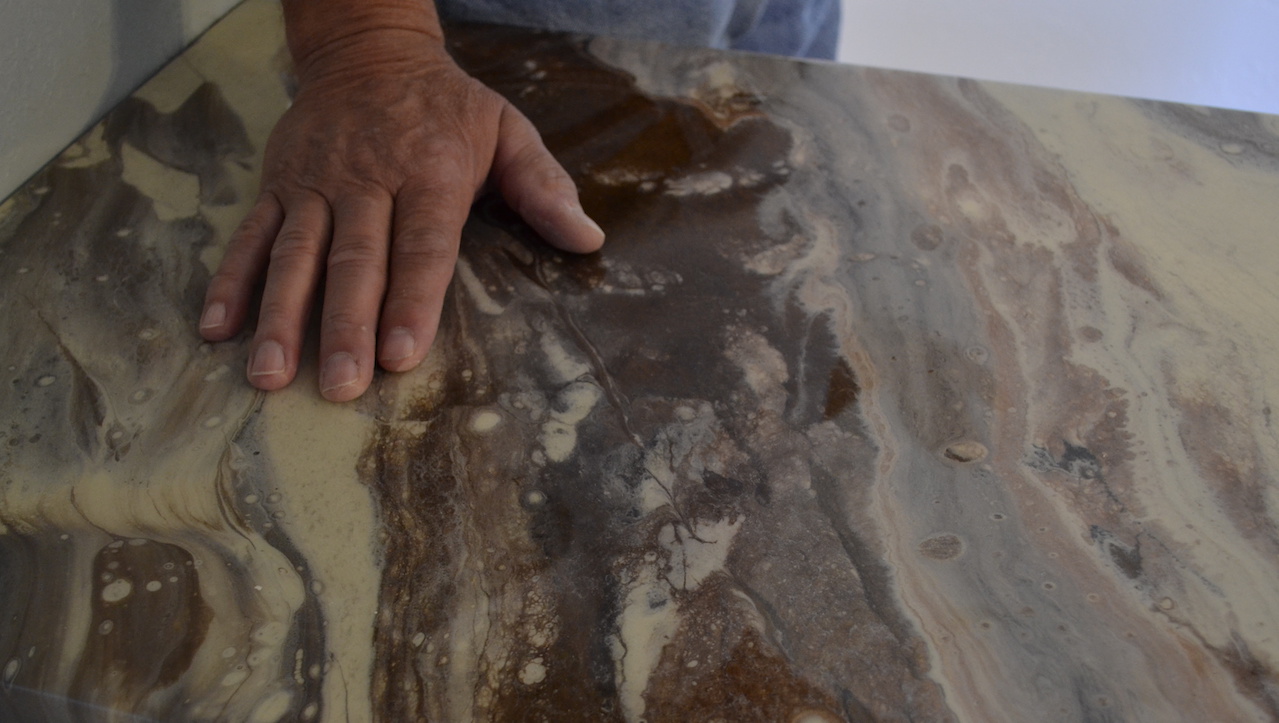 The everyday cleaning of your countertop (or tabletop) is slightly different from other countertops because of the glossy surface. It is important to find a cleaner that does not leave streak marks when applied to your countertop surface! In our offices we use Pledge or Windex as we have found that neither of those products leave a residue behind on the countertop. The majority of household cleaners work on these countertops, we recommend experimenting to find the one that is the perfect fit for your home!
Another important technique you may use when caring for your epoxy countertop is buffing out a scratch. While our Countertop Epoxy is extremely durable (up to 15,000 psi), scratches could still occur. To remove a scratch in the epoxy, you will need a drill, polishing pads, and Meguiars polishing paste. You will apply a small amount of the paste as directed on the packaging and then use the polishing pad attachment on your drill to buff the surface of the epoxy.
This two minute video goes over the process from start to finish:
Sometimes, caring for a countertop means that you want to make a change to the appearance, like polishing or de-glossing the surface. To create a matte epoxy countertop you will need a dual action sander, sanding pads, a spray bottle, and some of our Enviro-Wax. Sanding the countertop, you can either dry sand or wet-sand the surface depending upon whether your work area can have dust. Working in small circular motions, sand the surface of the countertop, then wipe away any dust or residue. Once you have the matte finish, seal the product with the Enviro-Wax, again, working in circular motions with a clean cloth to work the product into the countertop.
To polish the surface, we recommend either investing in a buffer attachment for your drill, which can be picked up at your local auto-zone, or a dual variable speed buffer to save your arms. When polishing your surface, use your buffer and Countertop Epoxy polishing paste. Again, make sure that you work in circular motions so you don't leave noticeable pattern on the countertop. Once you cover the entire countertop, wipe off the residue with water and a towel and your surface is polished!
You can watch both of these processes in this tutorial we filmed in our office:
Epoxy countertops are durable and easy to maintain, making them perfect for kitchens in the home and industrial settings. With these helpful tools you should be able to care for your countertop in almost any situation! If you have an issue arise that isn't listed above, please give us a call at 970.639.9338.! We would be happy to help you problem solve your issue.