When you install your own epoxy countertop it is important to know how to properly use a propane torch. After you pour out the epoxy, odds are that there will be some bubbles that were mixed in while combining the resin and hardener. To remove these bubbles from the surface of the countertop, we recommend a propane torch. The heat of the torch helps to level the epoxy and release air bubbles.
Don't be nervous about using a torch in your kitchen! If you follow these safety tips, you will remove bubbles from your epoxy with ease and create stunning marble effects.
The first technique that is important to properly removing bubbles from your epoxy countertops, is using the correct tool.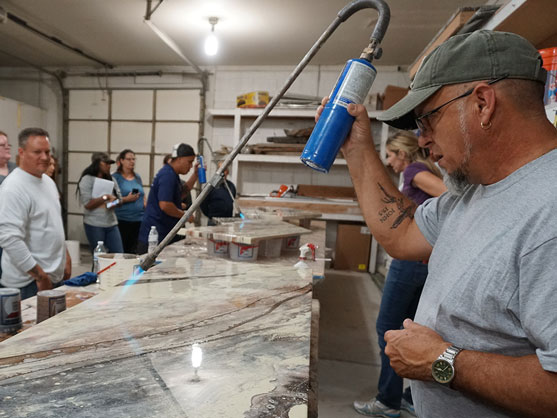 Heat Gun vs. Propane Torch
Many DIYers that are afraid of using a torch will ask us if there is any other alternative tool that they can use. When heating your epoxy, we do recommend a propane torch instead of a heat gun or hairdryer. A heat gun is not as effective as the torch, and will push the epoxy and change your designs instead of levelling the surface and popping bubbles. We recommend using a torch head that works well when inverted.
Fire Safety
It is important that you keep in mind the timing of your epoxy installation process that you use a torch. In our instructions and instructional video, we do recommend mixing our Metallic Mica Powders with 91% Isopropyl Alcohol and spraying it over the top of the epoxy. Do not use the torch immediately after spraying the 91% Isopropyl Alcohol. You will be in danger of lighting the alcohol on fire. Wait for the alcohol to evaporate for 5-10 minutes and then use the torch.
You may see our installer "playing with fire" in our instructional videos, and we do not recommend trying that at home. Now that you understand the importance of the timing of when you use the torch, what is the best torch practices?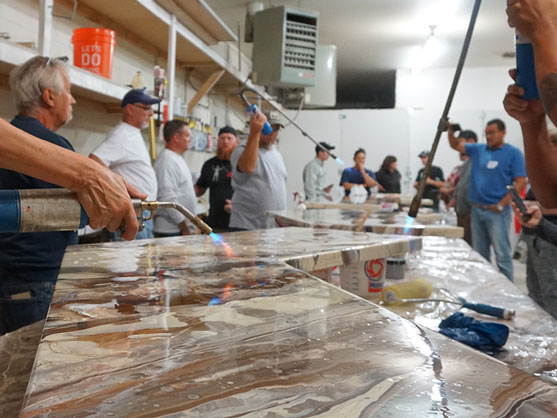 Best Torch Practices
When you use the torch, you will need to allow the flame to brush the surface of the epoxy. You will want to keep the torch moving, in even overlapping strokes. Do not rest the flame in one area without moving, if you stay in one place too long, you can burn the surface.
When creating a marble vein, you can run your torch along the vein to heat up the epoxy and make the vein really stand out from the rest of the countertop.
Are you getting ready to pour your first epoxy countertop? Our in-depth instructions will give you all of the information you need to create a stunning countertop in your kitchen. We also have the friendliest, most experienced staff in the industry and we'll be happy to walk you through the entire process. Our office is open Monday through Friday, 7am-7pm MST. We cannot wait to see what you create!