Not every epoxy countertop installation goes according to plan, and there are times where you may need to touch up some small mistakes. Whether your issue was with your design, or a divot, or you had a bug land in your epoxy (this happens more than you would think) there is a solution!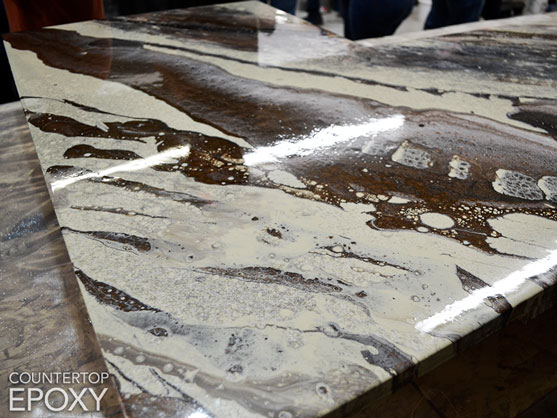 We are going to categorize a touch up between when the countertop is still wet and when it has cured. You will use different techniques to fix your problem areas depending upon whether the epoxy has cured or not. Fixes are much easier when the epoxy is wet, however, even the worst mistake can usually be fixed with a second coat.
How to Touch Up Your Wet Epoxy Countertop
As you pour the epoxy countertop and begin adding colors, let's say there is one vein that isn't laying right, or you globbed color where you shouldn't. You will want to use 91% isopropyl alcohol to break up the globs. If you want to remove it entirely, take some of the epoxy that has dripped off of your edges with a paint stick and run a line over the color and continue it to the other side of the countertop as a vein.
If you have a divot, it is a sign that your epoxy is too thin in that area. You will want to add more epoxy to that area, whether you pull from your drips or mix more.
In the case of a bug or other item falling into the epoxy, you would use tweezers, or a paint stick, to scoop the item out. Be careful to throw it away immediately as the epoxy on the item will be sticky.
If the issue is too large to fix, try to level out the epoxy as you can. There are a few other techniques that you can do to fix your countertop. We recommend trying to catch these situations before the epoxy cures as a fix is much easier at that point.
How to Touch Up Your Cured Epoxy Countertop
Once your countertop is cured, a fix will be more difficult. For any debris that is in the countertop, you will use a razor blade to carefully cut it flush with the countertop. If you have any colors that you don't like, or divots, you will need to pour another coat of epoxy.
We recommend pouring two coats of epoxy on every countertop. The second coat would be a clear so that you can fill any imperfections. You can also use your leftover accenting colors in this clear coat to add additional depth to the countertop and hide mistakes. This clear coat increases the durability of the countertop and creates a glass like finish on your countertops. You can resurface the epoxy as many times as you would like. Just keep in mind that if you wait to pour a second coat past 24 hours after the first, that you will need to sand the surface with 220-320 grit sandpaper to create a chemical bond.
What questions do you have about the epoxy countertop installation process? Give us a call at 970.639.9338. We have the friendliest, most experienced staff in the industry and we'll be happy to walk you through the entire process. Our office is open Monday through Friday, 7am-7pm MST.