Whether you're looking to create an epoxy countertop, floor, or wall (yes, you can epoxy your wall!) we can help you with knowing the exact amount of epoxy you will need for your project.
Most epoxy companies recommend pouring their epoxy at 10 mill thickness. To increase the durability and longevity of our epoxy, we designed our epoxy to be poured at 100 mills (1/8 inch) thickness. This guide is our recommendation for Countertop Epoxy products.
How Much Epoxy Do I Need for an Epoxy Countertop?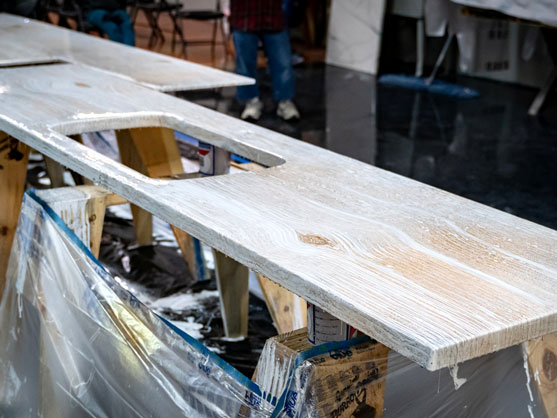 To know how much epoxy you'll need, you will need to measure the square footage of your countertops. Are you confused about how to measure the square footage of your countertop? Wikihow has an great tutorial that we would recommend to make sure you get the correct measurement.
It's also important that you take into account whether you need to apply a skim coat to your project. If it's a wood or concrete countertop, you will need to seal the surface with a clear skim coat of epoxy. One quart will cover 60 square feet for one skim coat. To apply two coats, we would recommend a 2 quart kit as well as the epoxy you need for the color countertop pour.
For our Countertop FX Poxy, one gallon will cover up to 20 square feet. To create a single 1/8 inch thick epoxy white marble countertop on a standard 40 square foot countertop, you will need two gallons of epoxy, one base color, and 3 metallic powders in pearl, charcoal, and gold for your accent colors.
To make this easier for you, we offer pre-made epoxy countertop kits on our website for a 40 square foot countertop.
Let's say that you have a 75 square foot countertop, how much would you order?
When installing a countertop, you will want to make sure you always have more than enough. If you try to stretch the product thinner than 100 mills, you will have divots in the surface where it was stretched too thin. For a 75 square foot countertop, we would recommend four gallons of epoxy which would give you 80 square feet of coverage.
One recommendation we have to seal your colored epoxy coat, would be to apply a secondary coat of clear epoxy with accenting veins or color sprayed over the top. This creates stunning 3D effects as shown in the epoxy countertop photo below: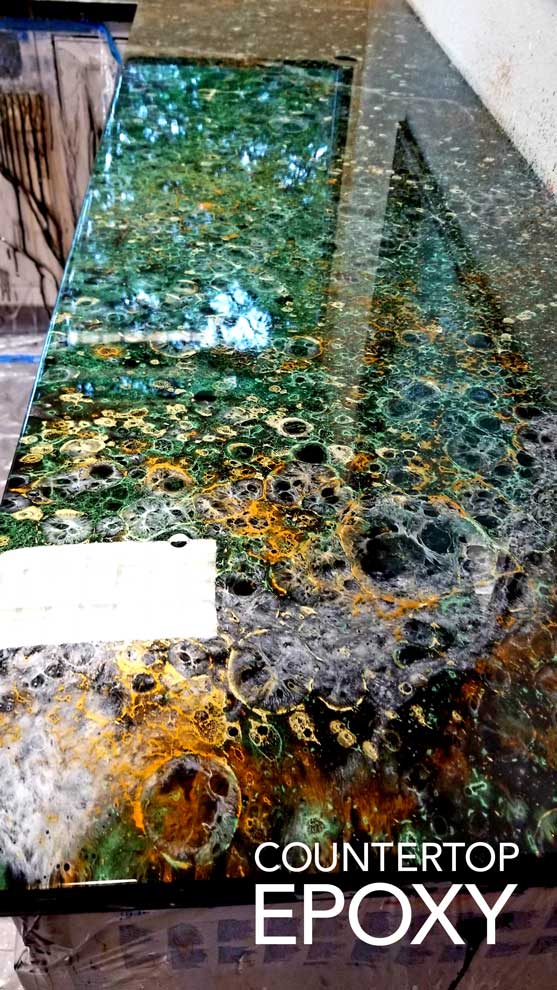 In this case, order additional amount of clear epoxy for your countertop square footage to pour a clear coat.
How Much Epoxy Do I Need for an Epoxy Wall?

Our 3 quart wall kit covers 50-100 square feet. Troweling this product takes practice, so you will want to plan on the 60 square feet coverage on your first try. As you grow in experience, you will be able to stretch the product to 100 square feet.
How Much Epoxy Do I Need for an Epoxy Floor?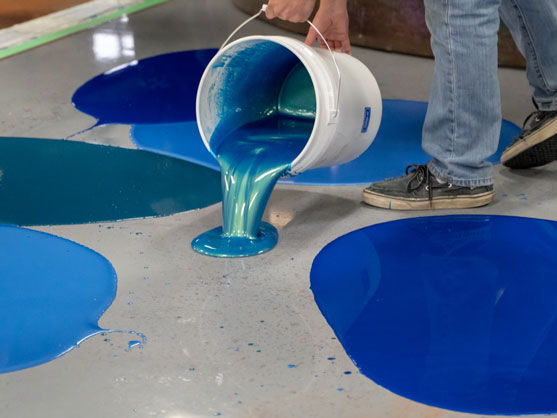 Our 3 gallon floor cast kit covers up to 60 square feet and our gloss flooring kit covers up to 75-100 sq ft. When you're planning the amount of epoxy you need, not only will you want to take into consideration your square footage, you'll also want to consider your skim coats. For porous surfaces like concrete or wood, you will have to skim coat the surface to seal against air bubbles. For a skim coat, use one quart of the floor cast product to cover 60 square feet.
For a 50 square foot concrete floor, order one floor cast kit. You would mix one quart for a skim coat, and then use the rest for the flood coat.
Do you want additional help deciding on how much epoxy you need for your project? Give us a call at 970.639.9338. We have the friendliest, most experienced staff in the industry and we'll be happy to walk you through the entire process. Our office is open Monday through Friday, 7am-7pm MST.