With any home kitchen renovation, you may have a theme in mind or certain color palette must-have but figuring out where to begin or what features to add to make your space really pop can be daunting.
With 2018 past and the new year finally here, we have put together a list of a few 2019 kitchen trends for you to keep in mind when sitting down to plan out your renovation.
Countertops

Countertops have always been the staple piece in any kitchen, it can really bring your whole kitchen together or break it completely. Be it a moody theme or bright and light kitchen plan, selecting your countertop material is a fundamental part in creating your dream space. Not only are you deciding which surface will compliment your other design elements, but you also need a surface with the proper durability that can withstand the constant daily use and will last you for years to come.
Photo: Epoxy countertop project by Kayla Pritchard Styled on State

Quartz is forecasted to be on the rise for customers to choose when renovating in 2019, but when you're on a budget selecting your countertop material doesn't have to break the bank. There are alternatives that can meet your every need while staying budget friendly. Create a faux natural stone countertop for a fraction of the cost of quartz or granite with our Premium FX Poxy Countertop Kits (see photo above). Get that timeless look and durability of stone that you've always wanted but for less.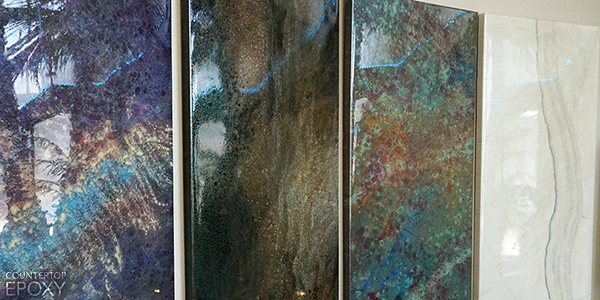 Countertop Epoxy - How to Design an Epoxy Countertop to Look Like a Stone Countertop



Granite is out

Granite has been decreasing in popularity due to its dated look and high-maintenance aspect. Not only is it a bit of an eyesore, if not taken care of properly granite can harbor bacteria and who wants that in the kitchen? Not us!
If you find yourself looking at granite, remember your alternatives. Countertop Epoxy is non-porous, won't harbor bacteria or stain, and is budget friendly. Did we mention it's also food safe?
Photo: Countertop Epoxy Photo Gallery
Kitchen Islands
Photo: Countertop Epoxy Customer. Products used: Premium White Marble FX Poxy Countertop Kit

In 2019 we'll see a lot more renovations including large kitchen islands. Not only does an island create more countertop space for prep work, who doesn't love more countertop space? But large islands will ultimately give you more storage and extra dining space that is easily accessible. It's a win-win in everyone's book.


Pendant lighting
Photo: Niche's Terra Modern Lighting

With the minimalism trend making waves in 2018 and flowing into 2019, pendant lighting is going to become another popular fixture that you'll see sweep over every kitchen if you haven't already. Pendant lighting defines and brightens areas with open plan spaces while making a statement. Just installed a beautiful large kitchen island with a beautiful epoxy countertop? Try adding some luxurious pendant light fixtures overheard to establish your space while satisfying the eye.
Black and Matte
Photo: Samsung

While a gorgeous high gloss finish is always in demand, we are seeing black matte finishes quickly become all the rage. From kitchen fixtures, accessories, cabinetry, hardware, to appliances. Yes, appliances. Say goodbye to stainless steel and welcome black stainless steel. The matte finish on black stainless steel is becoming more popular in today's homes. Companies such as Samsung shown in the photo above, KitchenAid, Whirlpool, LG, and more have all hopped on the black matte trend.
Have a bright and light kitchen? Try adding some black matte accents in your kitchen for the perfect contrast and a little added drama. A black matte finish can work with almost any interior scheme and create a richer look. If fixture accents aren't your thing, consider a black matte epoxy countertop. The velvet smooth finish is quite divine.
Watch our video on How-to De-Gloss and Polish an Epoxy Countertop to achieve a matte finish.
All-White Kitchen is no more
We've all seen it, that beautiful sleek all-white kitchen. It's quite gorgeous and many have transformed their kitchens completely void of color for that light and airy feel. While it's beautiful, many homeowners are finding it quite boring and lifeless as years pass on. They're now opting for bringing color back into their space, be cabinetry, fixture accents, or backsplashes.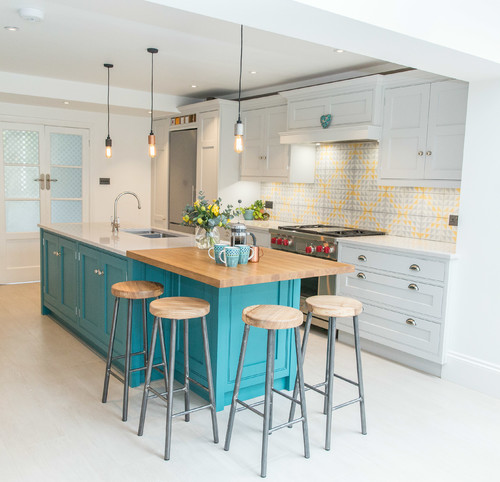 Photo: Thomas Davies Kitchens

Backsplashes
Photo: Fireclay Tile
Photo: HGTV+ Image by Alison Gootee
Colored and intricate backsplashes are rising in popularity and doesn't look to slow down for 2019. Are you looking to add a pop of color to your all white 2018 kitchen? Try adding colored tiles or colored grout to bring that much needed color back into your space.
Not a fan of tile or tremble at the thought of demolishing your old subway tile? Create a custom slab backsplash with our Premium FX Poxy and then install directly to your wall for that stunning sleek effect, or try our FX Metallic Wall epoxy and trowel it directly over your existing vertical tile, no demo needed.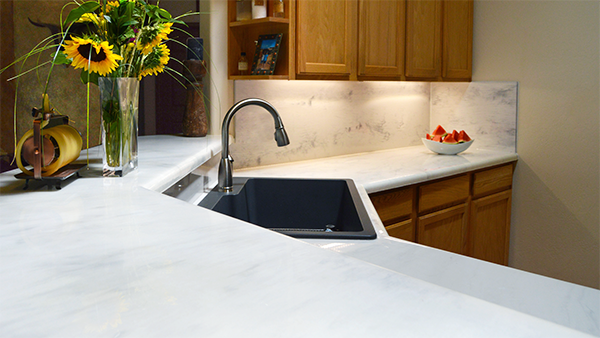 Photo: Countertop Epoxy

Basic Materials
Photo: The Vintage Round Top

While kitchen trends in 2018 were full of trendy and modern materials, 2019 looks to be taking a trip back to the basics and honing traditional methods. Away with the polished chrome and nickel and get ready to see more raw materials introduced back into the kitchen for that warmth and organic feel. Such as wood accents, jute, and stone.
Kitchen Graphics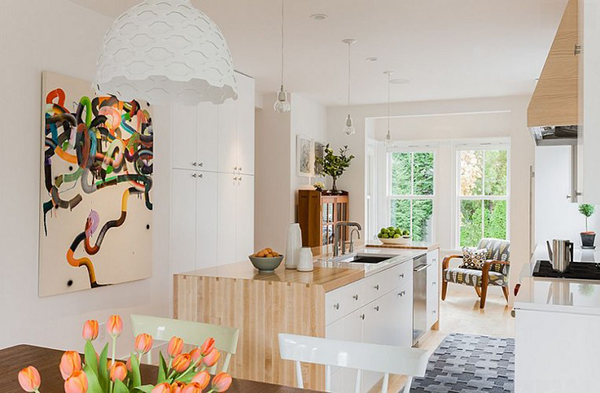 Photo: Saatchi Art
When it comes to decorating your space, hanging decor signs such as "Live, Laugh, Love" became a big trend in people's homes over the years. But coming into 2019, homeowners are choosing to opt out of general quotes and opting in to more substantial art for their space. Consider adding a gorgeous Resin Art Piece to your kitchen decor to wow your friends and family.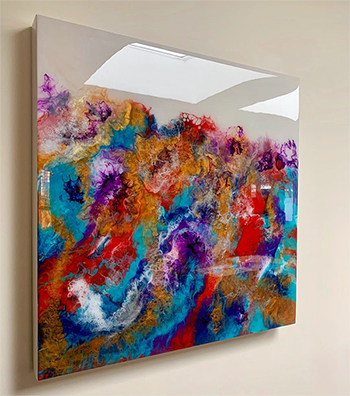 Photo: Renee Mendler Art "That Song In My Head" 30" x 30" x 2.5" Resin Art Piece
Upper Cabinets are leaving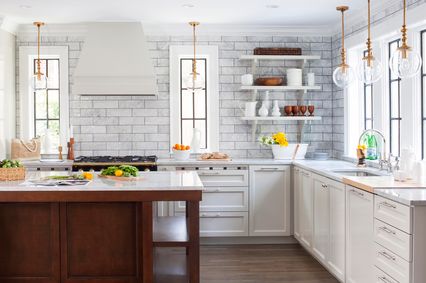 Upper cabinets are slowing leaving the kitchen as homeowners decide for hidden storage, built-in pantries, and more windows to give their kitchen a larger and brighter feel.
---
More Trends to consider
Darker Floors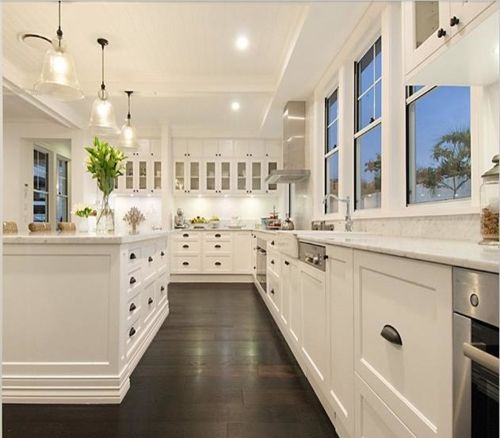 Dark & Moody Kitchens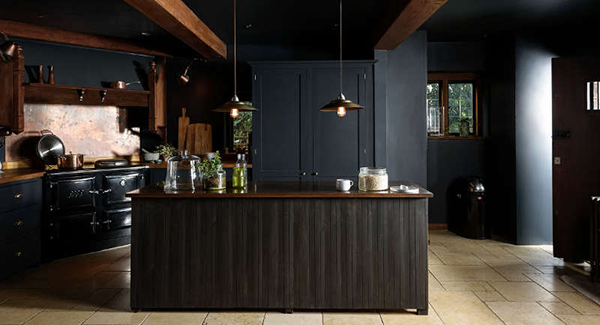 Photo: deVOL, The Petersham Kitchen
Industrial Finishes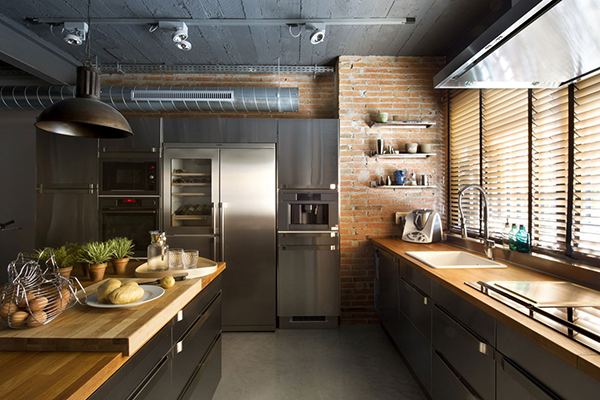 Clutter-free with innovative storage designs.
Photo: houzz, Ritchie Construction Ltd

Multi-purpose sinks
Color trends: Navy, Greens, gold and black.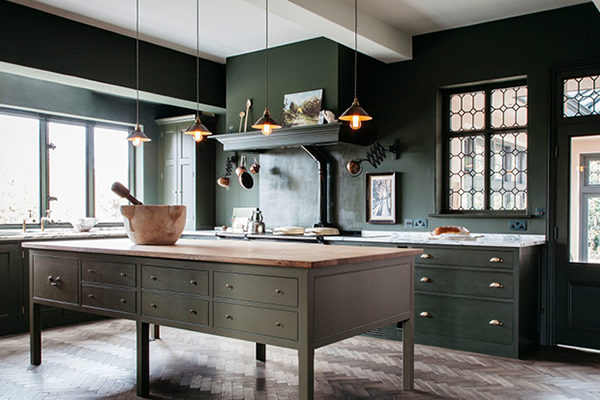 Photo: House and Home
With all these trends in mind and more popping up in the kitchen design world, when you go to plan your kitchen renovation take your time in setting your theme, doing research and setting goals. Keep your space up to date and avoid renovating into the past.

Have a question? Give our office a call at 970.639.9338 Monday through Friday, 7am – 7pm Mountain Standard Time.