Do you have a laminate countertop that you wish that you could replace with a marble, granite, or slate countertop instead? You can resurface your existing countertop to look like the stone countertop of your dreams with epoxy. We are always interested in recreating natural patterns in our work, from wood grain to a white marble. After years of recreating stone countertops with epoxy, there are a few steps you will want to create to create stunning epoxy finishes.
The first step is to decide on the stone countertop you're interested in recreating. If you don't already have a photo of the exact appearance you're looking for, we have a couple of recommendations of where to look!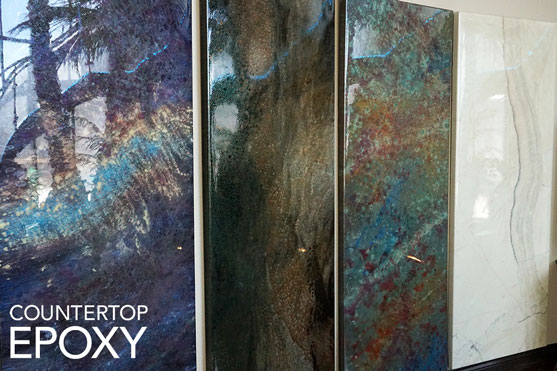 Pinterest
We have a board dedicated to natural stone epoxy patterns. This is a great place to get started because you can see the patterns that have already been done with epoxy. Pinterest is a great place to find the countertop look you prefer.
Granite Yard
Go to your local granite shop and walk through their samples. We visit these stores often to get inspiration for a piece. Take your camera to take pictures of the pieces you want to recreate, and make note of what you would like to replicate.
We also offer pre-made natural stone kits like our white marble, travertine, and soapstone. You can look at the reference photo to see the colors, and easily order one of these kits to recreate that stone pattern.
Do you have your photo reference? Once you have the reference point, (and if you didn't choose a pre-made kit) it is time to start shopping for colors.
Choosing Your Base Color
Look at your photo reference, and see if you can identify what the base color is. We have a myriad of different options to choose from for a base color for your natural stone piece. Sandstone, almond, black, and white are great bases for many different countertop designs. One base color will combine with 2 gallons of epoxy to create an opaque finish. If you're unsure about how much epoxy you'll need for your countertop, read these instructions.
FX Base Colors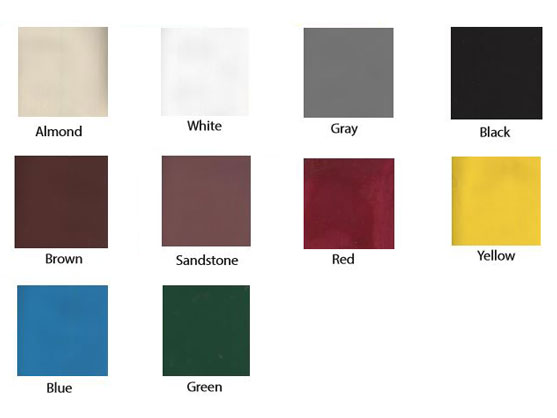 Choosing Your Accenting Colors
We have lots of colors to choose from when recreating a natural stone piece. Our Metallic Powders are made with Mica to create a natural metallic sheen on your countertop.
These metallic powders pack a punch when it comes to additional color. For natural stone, the Silver, Copper, Charcoal, Gold, Aged Bronze, and the Browns are beautiful additions for veins or adding cell structure to the finished piece.
FX Metallic Powders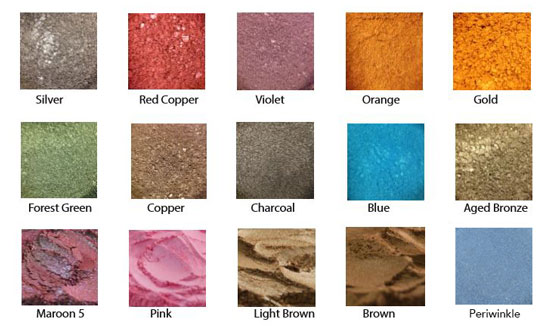 For additional depth of color, you might want to use one of our translucent Metallic Powders. Our Pearl or Translucent Gold add a shimmer to the top of your piece and veins that can only be seen at a certain angle. These subtle additions are a great choice for your countertops.
FX Glitters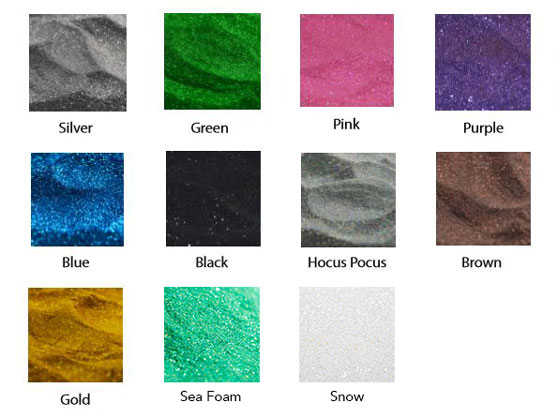 For larger flecks of color throughout your piece, you might want to consider a glitter accenting color. The silver, black, or gold, are a larger fleck size from the metallic powder and will speckle the top of a countertop.
If you want help choosing your colors, email our team your inspiration photo to info@countertopepoxy.com, and we will help you to choose the colors that best match your natural stone countertop.
Now it is time to recreate your stone pattern! There are two basic color application techniques that you can follow to create just about any epoxy natural stone countertop. We will cover spraying color and adding veins.
Watch these videos to see the application process in action:
You will then apply the colors and these techniques to recreate your natural stone pattern! These are the basics of recreating a natural stone pattern in an epoxy countertop. Before you dedicate to a full countertop, try pouring on a small MDF sample board to practice these techniques and take a look at our post "Do's and Don'ts for epoxy countertop resurfacing" for more tips. On our Youtube Channel, there are several full countertop tutorials for different natural stone countertop patterns. Try watching at least one to watch how these techniques can be combined to create designs on your countertop.
If you have any questions about the process, give us a call at 970.639.9338. We have the friendliest, most experienced staff in the industry and we'll be happy to walk you through the entire process. Our office is open Monday through Friday, 7am-7pm MST.